Laboratory of phthalocyanines and their analogs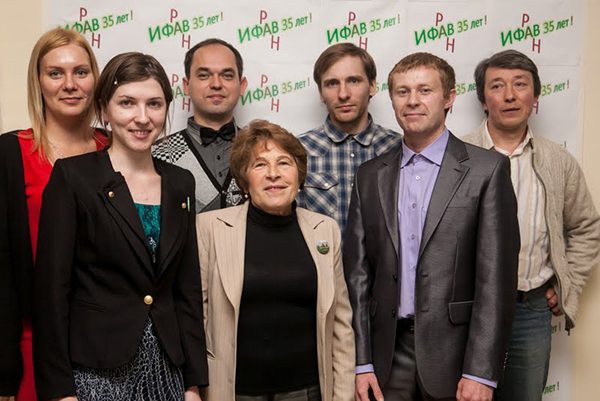 Laboratory established July 1, 1995.
Head of the laboratory from the moment of foundation until May 2015 - D.Sc. Prof. L.G. Tomilova, since May 2015 to the present time - D.Sc. V.E. Pushkarev.
In the photo - LPA employees at the celebration of the 35th anniversary of IPAC on September 14, 2013.

Laboratory staff:

Pushkarev Victor E. - D.Sc., laboratory head, chief res.

Tomilova Larisa G. - D.Sc., professor, chief res.

Tolbin Alexander Yu. - D.Sc., professor of RAS, leading res.

Kalashnikov Valery V. - Ph.D., senior res.

Balashova Irina O. - Ph.D., res.

Tarakanov Pavel A. - Ph.D., res.

Tarakanova Ekaterina N. - Ph.D., res.

Korostey Yulia S. - graduate st.

Tarasova Vera G. - graduate st.

Dubinina Tatiana V. - Ph.D., res.

Trashin Stanislav A. - Ph.D., res.

Belogorokhov Ivan A. - D.Sc., leading res.

Key research areas:
Development of direct synthetic methods, implementation of comprehensive physicochemical and photophysical studies (including the use of theoretical methods), establishment of "structure-property" relationships, assessment of the application prospects in medicine, photonics, electronics and spintronics for the following types of tetrapyrrolic compounds:

q Conjugates of phthalocyanines with related macrocycles and other photoactive molecules

q Functionally substituted dimers based on phthalocyanines of reduced symmetry

q 1,4-Diazepinoporphyrazines

q Hybrid phthalocyanine-tetrabenzoporphyrin macrocycles

q Pyrazinoporphyrazines

q Subphthalocyanine complexes

q Lanthanide sandwich complexes based on high- and low-symmetry phthalocyanines, naphthalocyanines and their 1,4-diazepinoporphyrazine and benzoporphyrin analogues

q Hybrid systems based on phthalocyanine complexes and gold nanoparticles

Some relevant aspects of the LPA work are covered in report «Phthalocyanines and their nanoscale derivatives as the basis of modern materials for topical applications», made by Victor Pushkarev in an interview to the TV channel «Cherta» (Chernogolovka) on the occasion of Russian day of science on February 9, 2017.
Publications:
For the last 5 years (2012-2016 years) the team has published 65 articles in international and domestic peer-reviewed journals, more than 40 abstracts at international and All-Russian conferences, 2 monographs and 2 patents.